Glass and aluminum balustrade
Putting together tempered glass with aluminum frame creates a perfect fit for modern architecture. Aluminum-glass balustrades that we assembled in multiple Łódźian flats, houses and offices ideally suited not only minimalistic constructions but also in large industrial projects and classic elegant arrangements. These balustrades constitute not only a fashionable declinational element but first of all a solid protection for your terrace, balcony, stairs or mezzanine.
We provide balustrades on all-glass profiles with practically invisible metal elements or painted with any colour from RAL palette. We use products of renowned companies like CORTIZO or MORAD. Thanks to materials that we use and verified assembly methods, our balustrades are fully safe.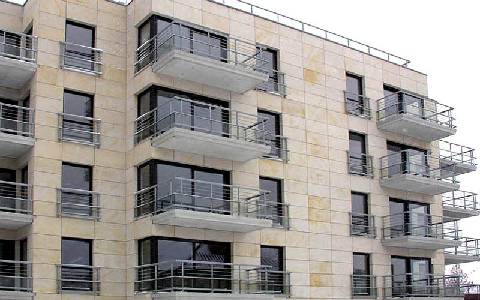 Modern design
Materials that we work with allow us to fit the looks of our balustrades to your liking. They will also suit an elevation and other external elements as well as a style in which staircase, living room or office is arranged in. Handrail can be made out of cool aluminum or wood which will 'warm up' the looks of a construction. Fillings may stay transparent, be opaque or be made of a coloured glass.
Aluminum - Glass balustrades from our offer can be assembled outside (as a finishing element) and inside (as a decorational and safety element). Their filling can be an aluminum section or tampered glass. Thanks to relatively large areas of that second material, our glazed balustrades look light and give buildings modern traits. It is especially a good choice for all the fans of a recently very fashionable industrial style but not only. Our products are universal enough to fit in into any kind of building.
Assembly methods
In case of all-glass constructions mounting takes place with a use of a rail anchored in flooring or fillings are attached to aluminum poles that are anchored.
Why should you choose alu-glass balustrades?
Modern, visually "light" design
Maximum safety
Non-restrictive for sunlight
Wide arrangement options