We're on market since 1989. We deal in wide range of aluminium joinery that include assembly of facades, indoor and outdoor shielding walls, windows, shopwindows and doors. We make our products using aluminium systems from CORTIZO, SCHÜCO & MORAD. We can use "cold" profiles - that is ones without a thermal isolation as well as "warm" profiles - that is ones that provide better thermal efficency as well as PCV in FORIS' system. We are able to produce windows in the most unusual shapes, entry doors, inside doors, sliding and folding doors, glazed balustrades, conservatories and individually desinged terrace roofings. We also take care of an on-site assembly of glass balustrades on balconies and terrecaces as well as to provide safety on staircases. We also make facade blinds - movable and fixed (different sizes and shapes), acoustic blinds, shutters, assembly of steel doors by GERDA & Padilla and anti-bulglary doors and fireproof doors. Our offer also includes awnings and roller shutters.
Our products are appropriate for private locations, public locations and large industral buildings. We take care of each client individually creating products for given dimensions. We cooperate with construction companies, housing associations and individuals, offering modern solutions in PCV and Aluminium Joinery of high technical and esthetical qualities.
PCV and Aluminium Joinery has no secrets before us! We use only tested and approved materials to provide a safe operation and a perfect look for our solutions.
If a conservatory was always your dream or you would like to order an unusual aluminium window, sliding or folding doors, we invite you to become familiar with our offer. We also encourage devolopers and housing associations to take a look at our offers in terms of glazed balustrades.
See also:
Zobacz:
Facades
Facade consists of vertical mullions and horizontal transoms that are tasked to increase stiffness of a construction and to support weight of glass.
Facade systems differ from window - door systems. Width of mullions and transoms stays the same but their depth changes allowing an assembly of significantly larger constructions without loosing a smooth and modern look.
Another difference between window systems and facades is the way these two are glazed. When glazing windows, it is done from the inside while facade systems are glazed from the outside.
We construct facades in mullion-transom system as well as structural facades. In these packing is used as a connector. That gives us an optic effect of larger glass area.
Painting is available in any RAL colour.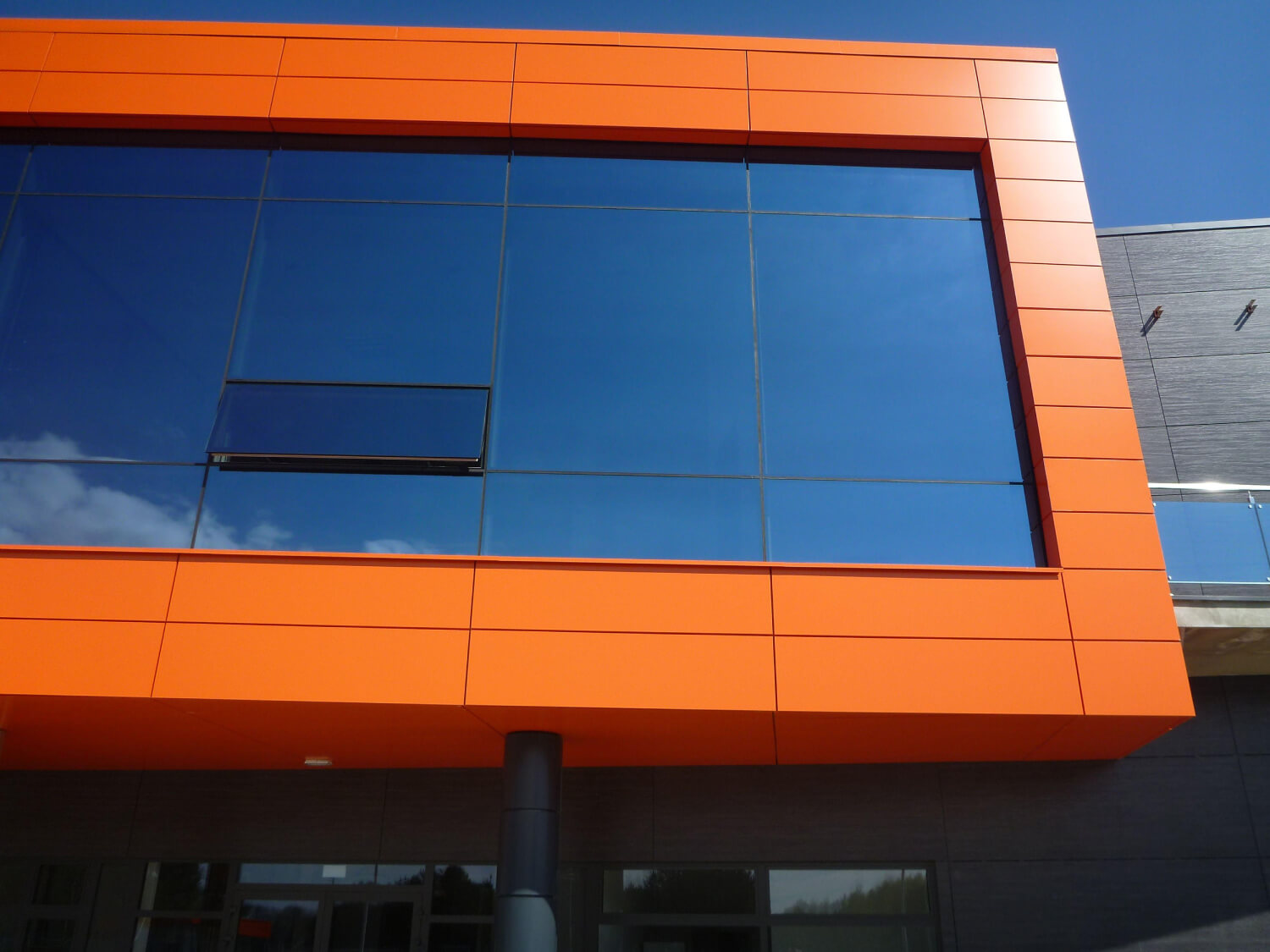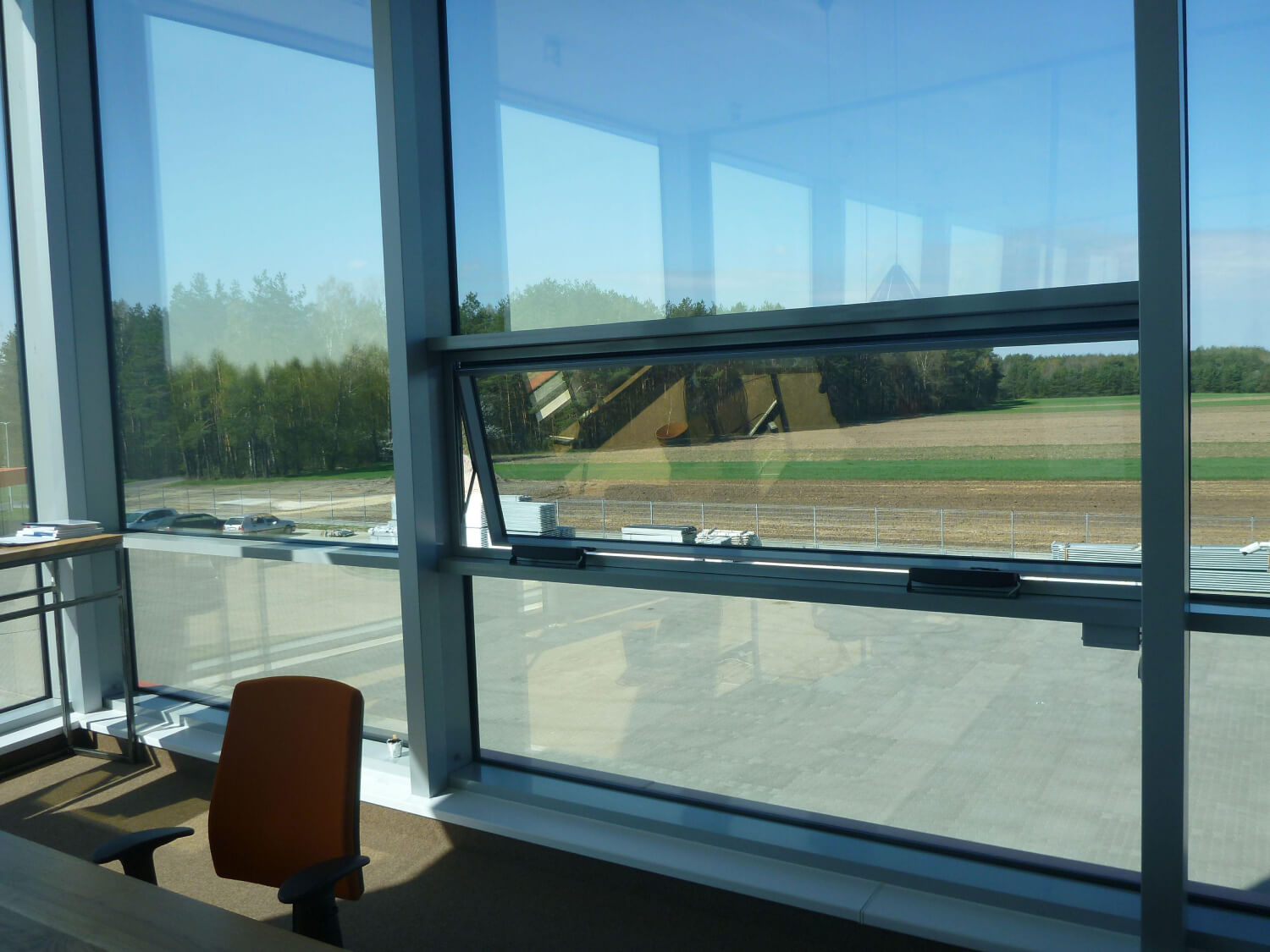 Okna i drzwi

Nasza oferta stolarki aluminiowej obejmuje również produkcję okien i drzwi. Naszymi Odbiorcami są zarówno właściciele lokali usługowych i rozmaitych budynków użyteczności publicznej, jak i prywatnych domów i mieszkań. Okna i drzwi aluminiowe tworzymy na zamówienie według wymiarów podanych przez Klienta. Do produkcji wykorzystujemy najwyższej jakości profile czołowych producentów oraz wysokiej klasy surowce, dzięki czemu możemy zagwarantować Państwu bezawaryjną, wieloletnią eksploatację naszej stolarki aluminiowej. Realizujemy nie tylko standardowe projekty, lecz także podejmujemy się produkcji okien w nietypowych kształtach (łuk, trapez, trójkąt, koło). Dzięki temu obiekty, w których montujemy nasze wyroby, spełniają pierwotne założenia projektantów i oczekiwania Klientów.
Aluminium Shutters
Shutters TAMIZ by Cortizo are made out of high quality aluminum profiles. They are available in any colour from RAL palette and in wood imitations.
They constitute an original decoration of a house, putting together modern esthetics with tradition. Thanks to that shutters TAMIZ will perfectly integrate into any style of building.
Excellent usability and great protection from atmospheric conditions of TAMIZ shutters are not their only values. They also have great thermal isolation factor as well as protect from burglary.